| | |
| --- | --- |
| Posted on November 19, 2016 at 7:05 PM | |
Full Cold Moon Giveaway for Organic Toothpowder
We will be drawing a winner on December 13th, 2016
This powdered blend re-mineralizes and whitens your teeth while gently and naturally cleansing them. Sage has been used for centuries by natives for cleansing and whitening teeth while freshening breath. We have collected sage from Mount Shasta that has been finely ground and added to this blend.
RECIPE
1 tbsp food-grade bentonite clay
1 tbsp food-grade baking soda
1 tbsp food-grade calcium carbonate
1 tbsp silica powder
1/2 tbsp finely ground Mount Shasta Sage leaf
1/4 tbsp Himalayan or sea salt
1/4 tsp organic Maca powder
1/4 tsp organic Lucuma powder
1/4 tsp organic orange extract
1/4 tbsp food-grade activated charcoal
12 drops food-grade trace minerals
In a glass or wooden bowl with a glass, wooden or plastic spoon (bentonite clay loses some of its beneficial properties when it comes into contact with metal), mix together your clay, baking soda, calcium carbonate, sage leaf, salt, maca, lucuma, orange extract, activated charcoal & silica. Mix together well. Add in 12 drops of high quality, food-grade trace minerals and your choice of organic essential oils (optional). Bottle in glass, wood or plastic.
This tooth-powder, when mixed with our remineralizing ozonated coconut tooth oil, makes an effective remineralizing and whitening potion. They cannot be mixed until just before use, as the powder is negatively charged and will pull the ozone out of the oil.
We sell these 2oz for $10 and 4oz for $15 online.
They are also at Berryvale Grocery for $12.50 for 2oz.
Please like our page on Facebook.com/OzonedOrganics and share our giveaway post to be entered to win!
There is also a drawing for another one on the SWEEPSTAKES tab on the page.
The drawing is for a 2oz glass amber corked jar.  My girls draw the winner's name out of a hat every full moon.  Bless up!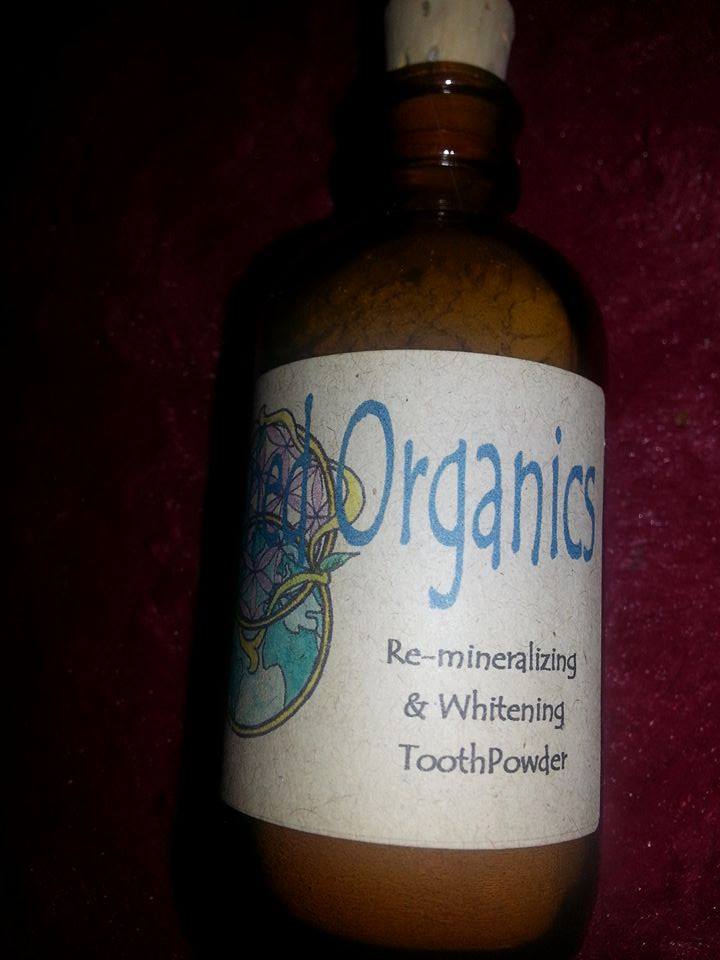 Categories: None